Distribution and especially dispensing is a part of the overall quality of a product. We offer dispensers for soap, conditioner, lotion and sanitizing liquids. Our speciality is the Finnish made PatentDispenser pump bottle dispenser, it also goes great with our pump bottles.
Automatic, pump bottle dispensers or lockable bottle holders for pump bottles – we will make it happen!
Exept plastic bottles, soap pumps and closures, we also improve the usage of liquids with dispensers and stands for dispensing. We are a market leader in dispensing solutions and both the bottle pumps and the PatentDispenser are our own production, made by our ALUVERK brand.
If you have ideas or suggestions about dispensers, stands or development of dispensing-systems, we can tailor you a model.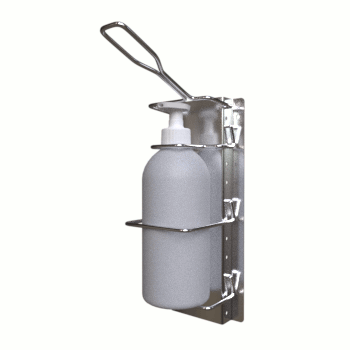 PatentDispenser | Dispenser for pump bottles

The PatentDispenser is a new innovation that makes using a pump bottle tidy. The hygienic trigger on the dispenser makes it easy to use and it prevents the contamination of surfaces and the bottle. The dispenser is attached with two screws and it only takes a second. All parts are electroplated, dish washer safe. By adjusting the brackets on the dispenser, you can make it fit any bottle between 200 ml – 1000 ml.
The PatentDispenser performs well in all environments, from outhouses to campers to kitchens to surgical wards in a hospital.
Colour: Electroplated steel
Dosage: According to bottle pump
EAN: 06429810475008
Box: (10 pcs)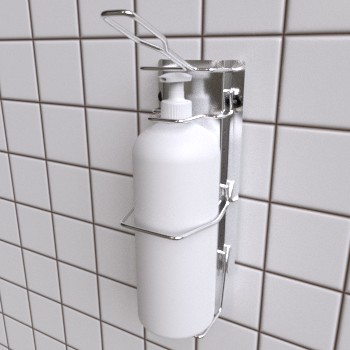 PatentDispenser | Extension bracket (1 liter bottle)

Extension brackets for PatentDispenser makes it possible to also use 245mm high, 1 liter bottles.
The PatentDispenser makes it possible to use bottles up to 85mm in diameter , with a volume of 600-1000ml. The extension brackets are combined to product EAN 06429810475008
Suurennussangat PatentDispenserille jolla saat myös suuret 245mm korkeat litraiset pullot sopimaan annostelijaan.
EAN, extension brackets: 06429810475022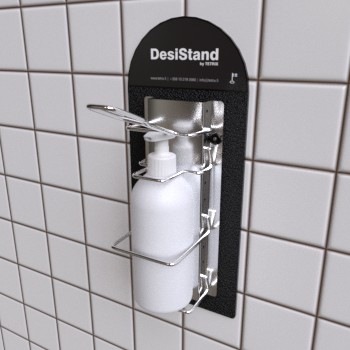 PatentDispenser | Mounting board "DesiPlate"

A mounting board for one dispenser. Can be branded. Attach the dispensers with screws or our VELCRO brand hook and loop. The board is manufactured fro resistant ABS plastic.
Colour: Black
Branding: Possible
EAN: 06429810475152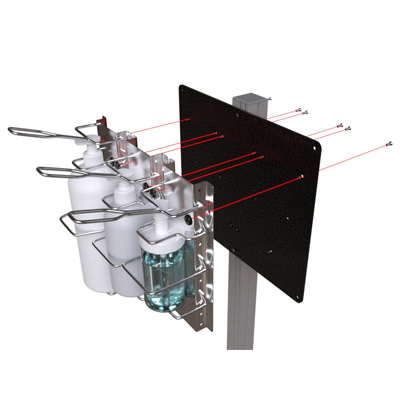 PatentDispenser | Mounting board "MultiPlate"

A large mounting board for dispensers or different combinations. Produced from non cracking ABS plastic. Mounted with screws or VELCRO brand hook&loop. The MultiPlate makes it easy to mount dispensers to the wall and you can combine e.g. a soap and sanitizing solution or a soap and lotion combination.
Colour: Black
EAN: 06429810475077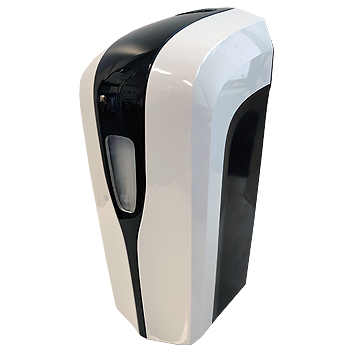 AUTOMATIC | Hands free dispenser

A stylish fully automatic dispenser for soap and sanitizing liquid. With both spray and stream nozzles. Detachable re-fill tank with a big opening. Operates using eight AA size batteries. Long life time with battery set. Adjustable dosage size.
We recommend: Easily fill your dispenser using the canister pumps that you can find in the PLASTIX range.
Colour: Black/White
Dosage: 2ml/4ml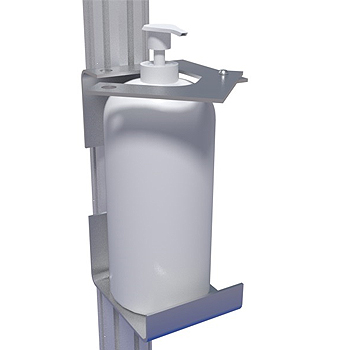 LOCK | Pump bottle holder

A light, lockable dispenser solution for pump bottles. Made in Finland. Aluminum construction that will not corrode. Easy to mount with two screws. Ad a lock to protect your bottle from theft. Adjust the system to fit your bottle and attach to wall or stand. Fits any size of bottle.
Colour: Aluminum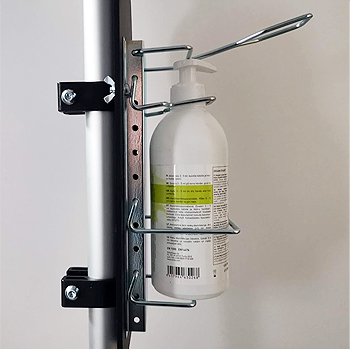 BUS | Dispenser system for bus and train

A PatentDispenser pump bottle system with tubular attachment. Can be mounted on vertical polses in e.g. busses and trams. The brackets goes around the tube and is attached into place without tools. As all PatentDispenser systems, all sizes of bottles fits the dispenser. Adjustable brackets and a elbow trigger makes the dispenser an easy choice for all hygienic needs.
Colour: Electroplated steel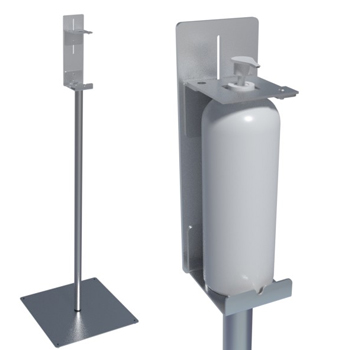 DOCKER | The most affordable stand

The DOCKER floor stand for pump bottles. The most affordable floor standing system around. You can lock the bottle in to the stand and there is room to adjust for all sizes of bottles. Foot from steel and the pole is aluminum.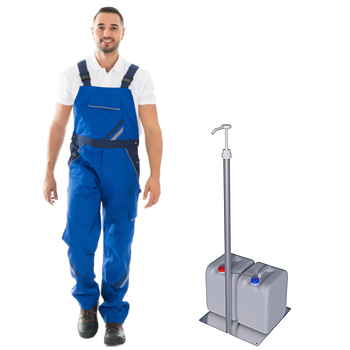 ASEMA | Heavy traffic dispenser

ASEMA is a dispenser that allows for e.g. sanitizing liquids to be pumped directly from a canister. You can also use the ASEMA as a filling station for dosage pumps, as a from-canister-to-bottle solution. The stand works perfectly indoors and out as a sanitation station, or can be used in cleaning rooms as a filling station for cleaning fluids.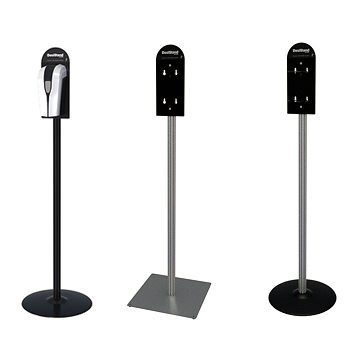 STAND | All dispensers

Floor stands for all dispensers.
Upright poles: ALU-4 (square) or ALU-8 (round) aluminum, black or anodized (grey) aluminum. Two feet models: The square metal colored (grey) galvanized steel 3,3kg or the black powder coeated, round foot 2,3 kg.
Most used versions:
EAN ALU-8 All black foot and pole: 06429810475107
EAN ALU-8 Grey pole and black foot: 06429810475091
EAN ALU-4 Grey pole and grey foot: 06429810475084
PLASTIX
Movägen 9
68600 Jakobstad
FINLAND